Colin Kaepernick Vs. Tim Tebow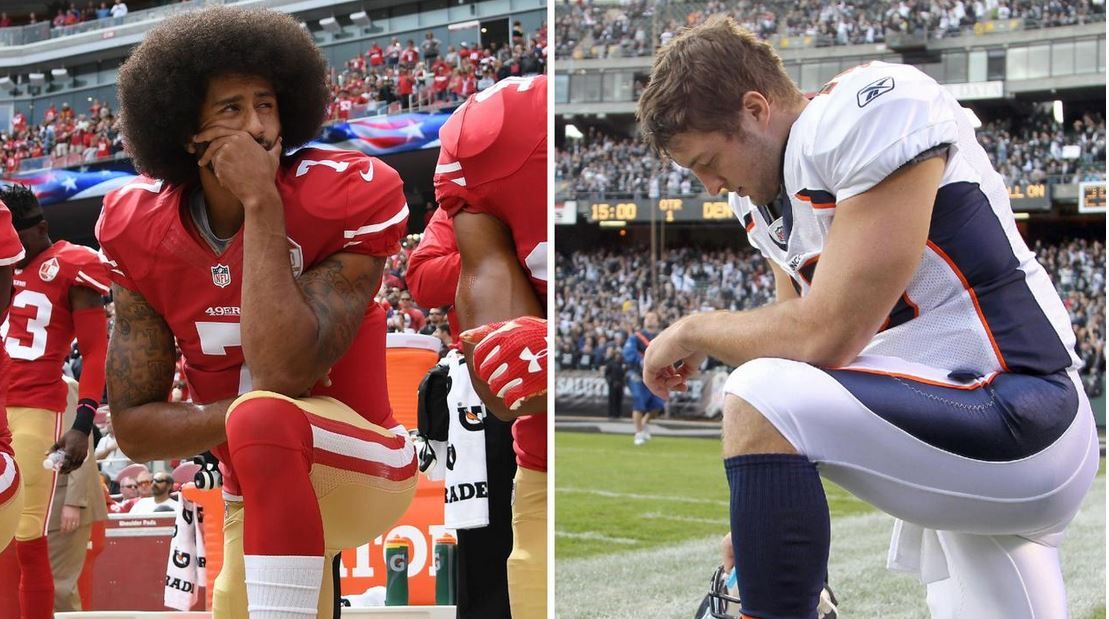 In a bizarre and intriguing sports news development,  the Jacksonville Jaguars, a professional football team, made the decision to sign former NFL quarterback Tim Tebow. After nearly a decade away from the league, head coach Urban Meyer and his staff intend to potentially "resurrect" Tebow's career by using him as a tight end—something that didn't work out so well the first time around in the Big Apple. Tebow's return to the league has brought about a heated discussion in comparison to how former San Francisco 49ers quarterback Colin Kaepernick was treated after his decision to take a knee during the national anthem of each game in the 2016 NFL season. Since then, Kaepernick has been unable to get another chance at playing in the NFL. As detailed in many recent articles by sports news networks, there is a belief that Tebow's ability to navigate the "Good Ol' Boy" network and his popularity among Christians allowed him the opportunity to get the second chance that Kaepernick is still seeking. However, the differences between both athletes in accountability and knowing how to handle their messaging is really the key differentiator in why Tebow is back in the NFL, while Kaepernick is not.
Before diving into this debate, it's important to clarify that this is not meant to drive a discussion on whether or not Colin Kaepernick should be in the NFL. Also, any comments made in this article are not meant to undermine or belittle the discussion regarding Black Lives Matter, police brutality, or racism. These issues need to be addressed in our country and Colin Kaepernick deserves considerable credit for the efforts he made to bring each of them into the national media spotlight. Instead this article is meant to focus on WHY Colin Kaepernick's personal actions, in combination with several other factors, have made it difficult for him to get back to the NFL. Whereas, Tim Tebow made the necessary adjustments to get his chance of coming back into the NFL.
Their Rise in the NFL
When analyzing both Tim Tebow's and Colin Kaepernick's careers, it's tempting, in hindsight, to brush over their accomplishments. It's also easy to believe that the reason both athletes found their way out of the NFL is because of their drop-off in play. However, both players accomplished fairly unique achievements ranging from their days in college all the way to the pros.
For Tim Tebow, he's practically considered to be a football super star in the state of Florida, perhaps an additional reason why signing Tebow made sense for the Jaguars. Having attended and played football at the University of Florida, Tebow was able to work with college football coach guru Urban Meyer (the current head coach of the Jacksonville Jaguars). Together, the two men accomplished great things, such as Tim Tebow winning the Heisman Trophy, winning two National Championships, one against the OU Sooners—thanks for breaking many of my friends' hearts!—and breaking dozens of records in the NCAAF and SEC record books."
Although Tebow never "wowed" audiences with his ability to throw and was considered to be just a runner with no real arm, he was still a highly sought NFL prospect. Surprisingly enough, the Denver Broncos would take him in the first round of the NFL draft. Just two years after being drafted, Tebow would lead his team to their first AFC West Title and playoff victory in six years! Tebow's immediate success gave him nationwide recognition in the forms of a humorous "appearance" on SNL as well as recognition for the Tebow kneel. Perhaps more importantly, in terms of comparison with Colin Kaepernick, Tebow used this fame to champion his belief in Christianity—a message that was warmly received by most NFL fans.
As for Colin Kaepernick's rise to the NFL, his journey was much more difficult and lacked the dazzle that Tebow experienced with the Gators. Coming out of high school, Colin received only ONE football scholarship offer from a Division 1 college, The University of Nevada. While there, Kaepernick accomplished unbelievable collegiate achievements by amassing 10,000 yards passing and 4,000 yards running, obtaining WAC Offensive Player of the Year recognitions in 2008 and 2010, and helping Nevada win a claim of the WAC title in 2010. Perhaps this is too bold of a statement, but without Colin Kaepernick and Nevada's high octane offense in football, the University of Nevada may have been on the outside looking in after NCAA's massive conference realignment. (Something I believe Colin Kaepernick deserves much greater credit for from his old school.)
After completing his senior year, Colin declared for the NFL draft. His stock was majorly boosted by his collegiate accomplishments and beating Boise State in a shootout in his senior year. He would be drafted by the San Francisco 49ers in the 2nd round. For his first season, Colin sat behind quarterback Alex Smith. But the next season, an unfortunate injury occurred to Smith that presented an opportunity for Kaepernick to demonstrate his skills, and he didn't disappoint. He would help the 49ers secure a respectable record and qualify for the postseason. During the playoffs, Kaepernick would set an NFL record for rushing for the most yards in a single game (181 yards rushing!); he'd outduel quarterbacks such as Aaron Rodgers and Matt Ryan; and he would help lead his team to the Super Bowl. Ironically, though, as Kaepernick achieved these goals, he never seemed intent on being vocal on public issues because of his celebrity status. But that would soon change.
Choosing Their Messages
As Colin's career in the NFL began to take shape, there was a social movement that was also taking shape. Black Lives Matter. Colin's career and the Black Lives Matter movement were almost taking place simultaneously. Black Lives Matter became a nationally recognized movement after the deaths of Michael Brown and Eric Garner and the protests that occurred thereafter. Like many Americans, Colin closely followed the movement and often participated in public discussions on social media about BLM issues in the forms of racial discrimination and police brutality. However, leading up to the 2016 NFL season, Colin felt greater action was needed to take place on issues such as racism and police brutality. He sought to take action but in a way that would be perceived as being taken "out of the playbook of Dr. King..."
Seeking to follow Civil Rights Activist Martin Luther King's example, Colin chose to first sit and then later kneel during the National Anthem. The decision was widely perceived as being selfish and detrimental to the state of his team. However, Kaepernick did receive the help, support and admiration of dozens of professional athletes such as Michael Bennett, Malcolm Jenkins, and Anquan Boldin. Because of Kaepernick's protest, a necessary discussion about police brutality and racism was beginning to take place. Sadly, though, much of the discussion surrounding Colin Kaepernick failed to ever focus on these issues since most Americans instead focused on whether or not it was within Kaepernick's right to kneel (refer to pg. 55 in the link).

While Kaepernick attempted to do something daring in the form of kneeling to promote his message on racism, Tebow ironically chose a very similar gesture to promote his devotion to Christianity. Tebow was the starting quarterback for the Denver Broncos; he was known for "Tebowing," or taking a knee after completing a big achievement. Whether that was throwing a touchdown pass (which, let's be honest, with how rarely that happened, each of us would be happy too) or winning a game, Tebow would take the time to kneel and pray to God.
Though "Tebowing" wasn't necessarily something new when Tebow entered the NFL, he was in a much bigger spotlight than he was during his time at Florida. As a result, the greater the spotlight, the greater the support AND the scrutiny. As written in a journalistic article, entitled "The Trouble With Tebowing," Tebow received significant backlash for choosing to be so open and transparent about his Christian beliefs. Perhaps some of it was due to the fact that people felt his level of play did not match his spotlight, or perhaps it was because sports analysts and spectators felt that Tebow represented the stereotypical white Judeo-Christian demographic too strongly. Despite the pushback, Tebow received far more adoration and support than he did scrutiny for his eager devotion to Christianity.
When reviewing what has occurred with Kaepernick's and Tebow's forms of kneeling, it's interesting that both were met with such different overall reactions to the general public. However, perhaps it is because one was done out of gratitude, Tebow's Tebowing, after successful football plays, and the other one was done out of frustration and dissatisfaction, Kaepernick's National Anthem protest, with the racial inequality existing in the US today. Regardless of the opinion of either form of demonstration, it is fair to say that both the actions were met with scrutiny from the media and the American public.
Their Decline In The NFL
Although Tebowing brought at times excessive and unhealthy attention to him and his football team, it was ultimately a far different problem that led to his NFL demise. The ability to competently play quarterback. For all of Tebow's great achievements in his career with the Florida Gators and the Denver Broncos, he simply could not make up for his sporadic throwing. For example, through 35 games in his NFL career, Tebow only completed 47% of his passes and had only 17 touchdowns compared to 9 interceptions. As a result, Tebow would find his way from Denver to the New York Jets where he would need to attempt to revive his career.
In New York, his new team would transition Tebow's role to tight end and take on a more "jack of all trades" approach. However, such an attempt would last only one season as Tebow resisted the idea of leaving the quarterback position behind. As a result, Tebow would soon find his way out of the NFL due to an inability to perform at an NFL level.
As for Colin Kaepernick, his decline was more complicated. Through the first three seasons of his career, Colin was playing outstanding football. He had a much greater arm than Tebow ever did and he was much more mobile. However, injuries soon caught up to Kaepernick, and he had suffered three significant injuries by the start of the 2016 season. Kaepernicks' injuries combined with now playing under his third new coach and starting his take a knee protest put Kaepernick and the 49ers in a tough predicament. Not to mention, the 49ers record from 2015 to 2016 made Kapernick's uninspiring play that much more difficult for the team to back him as their starter. After the end of the 2016 season, Kaepernick agreed to mutually part from the 49ers. Upon being released, Kaepernick was unable to find another team to give him a second chance like Tebow had gotten with the New York Jets, New England Patriots, and Philadelphia Eagles.
Communication, Communication, Communication
Although it seems clear that most sports writers believe that Colin Kaepernick was blackballed for his decision to take a knee, that isn't the whole story. While Colin Kaepernick should be commended for taking a more MLK-style in his public demonstration, it's important to recognize that his rhetoric did not match his peaceful protest. For example, when Kaepernick first began to kneel, he chose to wear a pair of socks with "pigs and police hats" on it to draw attention to himself and to the fact that there are cops who abuse their power and authority. Furthermore, he garnered even more attention for choosing to wear shirts such as one with a picture of Malcolm X and Fidel Castro on it. Actions such as these led many in the general public to believe that Kapernick's intentions were not purely focused on systemic oppression. Fair or not, Kaepernick assisted, along with the media, in leading the general public away from the main discussions about police brutality and racism.
Combining Kaepernick's off-the-field antics with his decreased competent level of play and his protest put NFL teams in a difficult spot about whether or not they wanted to add Kaepernick to their football team. To make matters more difficult, polling by the mainstream media showed, as of 2018, that at least 53% of the general public did not agree with kneeling in any way, shape, or form. These factors combined created the perfect storm that would make it, at best, complicated and, at worst, unfeasible for Kaepernick to get a second chance on a different NFL team.
As complex as Kaepernick's NFL status was as of 2017, it's important to recognize that he DID receive a second chance at continuing his NFL career. Several months after his departure from the 49ers, Kaepernick was contacted by the Baltimore Ravens about potentially signing with them. The two sides were within reach of signing a deal, but then another roadblock emerged. During negotiations, Kaepernick's girlfriend, Nessa Diab, tweeted a controversial picture depicting one of the Raven's organizational leaders, Hall of Fame linebacker Ray Lewis, as being a slave to the white owner of the football team. In an interview after the tweet, Ray Lewis said regarding Kaepernick, "We were going to close the deal to sign him… Then, his girl goes out and put out this racist gesture and doesn't know we are in the back office about to try to get this guy signed. Steve Biscotti has said it himself, 'How can you crucify Ray Lewis when Ray Lewis is the one calling for Colin Kaepernick?'"  After reconciling a relationship with Ray Lewis and the Ravens was no longer an option, Kaepernick, for all intents and purposes, became untouchable to NFL teams.
So Why Is Tebow Getting Another Chance?
Although it is fair to argue that, to some extent, the treatment that Kaepernick received from the NFL was unfair, there are some key elements that we should keep in mind when seeking to compare his situation to Tim Tebow. First, the way we communicate and approach the issues we're most passionate about will absolutely affect the way people perceive us and receive our beliefs. For example, although Tim Tebow can be perceived as being preachy or over the top with his Christian beliefs, his character has never been questioned by his coaches or his teammates. From a locker room standpoint, Tebow is the kind of person you want to build a team around even if that player is not the most talented athlete. There are those that would also argue that Kaepernick fits that same mold as players like Eric Reid and Daniel Kilgore. However, recent tweets and actions such as Kaepernick's July 4th tweet of 2020 don't echo the idea that Kaepernick would be someone you can build a team around.
Second, humility opens doors that would otherwise be closed. This is one of the main reasons why Tebow has received up to five chances to salvage his career and Kaepernick has not. It is well documented that the kinds of contract offers that Tebow got from the New England Patriots and the Philadelphia Eagles were NOT eye popping. Instead, he was playing for the chance to prove that he still had something left in the tank. As for Kaepernick, recent news articles about his discussions with spinoff football league, the Alliance of American Football, state that Kaepernick was seeking an annual salary of $20 million per year!  Not to mention, he was reportedly seeking $9 to $10 million per year when seeking a new job in 2017 in the NFL. Kaepernick was absolutely within his right to seek out these kinds of salaries for his services, but he also risks incurring the consequences of not being employed.
Third, familiarity is key to opportunity. For Tebow, much of his chances have come due to connections in the forms of Josh McDaniels, Chip Kelly, and Urban Meyer. Because Tebow knew these coaches' systems and his unique skill sets were something these coaches wanted to utilize, he was a relatively cheap, enticing option. For Kaepernick, he was unfamiliar with most of these coaches and his price range made this kind of conversation impossible to have.
Fourth, Colin's decision to speak out on police brutality and racism was a far more volatile topic than Tebow's devout Christian beliefs ever were in the eyes of the public. For the most part, most team executives' main goal is to do that which can increase their team's revenue. Considering the unpopularity of Kaepernick's protest in combination with the other factors previously mentioned, it was and still is difficult for Kaepernick to find a clean way back into the NFL.
Conclusion
As Tebow prepares for this next opportunity in the NFL, it is fair for some NFL fans to be frustrated that Kaepernick is also not being given an additional chance. Those feelings are understandable, but it's critical to acknowledge that Kaepernick helped to create the messy situation he's in right now. His unwillingness to lower his expectations for salary compensation, his dropoff in play, his reckless communication on social issues combined with his desire to protest during the national anthem made Kaepernick's wish of staying in the NFL almost impossible to accomplish. Again, this isn't to say that black lives don't matter because they do. My friend, Logan, wrote a phenomenal piece on Black Lives Matter and on how important addressing this topic is to our nation's future. But in regards to Tim Tebow and Colin Kaepernick, the reasons why Kaepernick is OUT of the NFL whereas Tebow is IN the NFL (for however long that may be) are far more complicated than any accusations such as "white privilege" or "blackballing" could ever explain.